Doctor Sara is a proud graduate of Ross University School of Veterinary Medicine where she obtained her Doctor of Veterinary Medicine degree in 2011. Doctor Sara and her husband Timothy Sparks opened Bliss Veterinary Services upon Sara's graduation also while expecting their first daughter, Marie Jane. The youngest member of the Bliss-Sparks house-hold is Cheyenne Elizabeth. If you stop by the clinic or have us out to the farm you are likely to hear the ornery laughter of our girls! Our practice is based on strong family values and our clients are treated in such a manner.

Tim and Dr. Sara also share their home with Poppy the Pug, their barn dog Robert, and Beeb the clinic cat.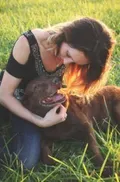 Dr. Sami Straits is also a proud graduate of Ross University School of Veterinary Medicine. She grew up in the area with her family raising and training horses for many years as well as a small angus beef herd, Dr. Sami has never wanted to be anything other than a veterinarian and is very glad to have joined Bliss Veterinary Services. She loves to work with horses and farm animals, as well as the dogs and cats that come into the clinic. Dr. Sami is very passionate about her work and loves interacting with clients and their animals. She has a horse named Booger (well deserved name), a Dachshund named Reba (who is a princess), and a German Shepherd she rescued in veterinary school named Malik.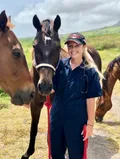 Our office manager, Miss Kim Glowacki. Miss Kim is originally from Cleveland and her and her husband share a love for German Shepherds.

We look forward to working with you and making you a part of our family.